I was looking through the British registered design entries for 1914, as listed in the patents journal, and found two by the Suffragettes.
They were applied for on the 24 November 1914 by the East London Federation of Suffragettes at 400 Old Ford Road, Bow, and were registered as 644045 and 644046. They were registered in Class XVI, which is simply for miscellaneous goods. No title was provided (this was the practice until the 1930s). Hence I had no idea what the designs looked like or were for.
The archives for the British registered designs are in the National Archives (TNA), and there is a leaflet explaining how to search them, How to find a registered design 1839-1991. The big difference between British registered designs and the American Design Patents is that the latter are published as proper documents and can be found, and to some degree searched, online. It is a big shame as the British registered designs are so numerous, in the millions.
I visited the TNA and ordered up BT52/675, which is the box that contains a single sheet for each of these designs. Again no title, just photos of the designs. Each sheet has two photos, of different profiles, and in each case I have taken an image of the top appearance. Here is 644045.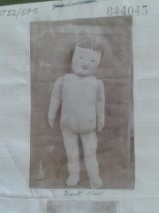 And here is 644046.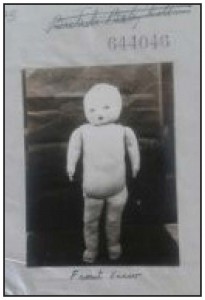 We can only guess at their purpose. They are clearly dolls, one female and the other male.
I wonder if they were meant to be used for, say, a mimed play where it is shown that the male doll represents a child who will grow up to be a voter, while for no good reason his sister will grow into a disenfranchised woman ? If anyone has any information about their intended use I would be glad to hear about it. As registered designs were meant to prevent anyone else using a certain look they seem odd things to register — they could have used any dolls for the purpose.
In any case, the Suffragette campaign soon came to a halt. It was decided to call a  truce during World War I, and in 1917 — probably because of the big effort made by so many women in war work, and their substituting in many jobs for men on active service — votes for women over the age of 30 was voted through Parliament, extended to be on a par with men to the age of 21 in 1928.